7 Benefits of investing in a Meeting Room Booking System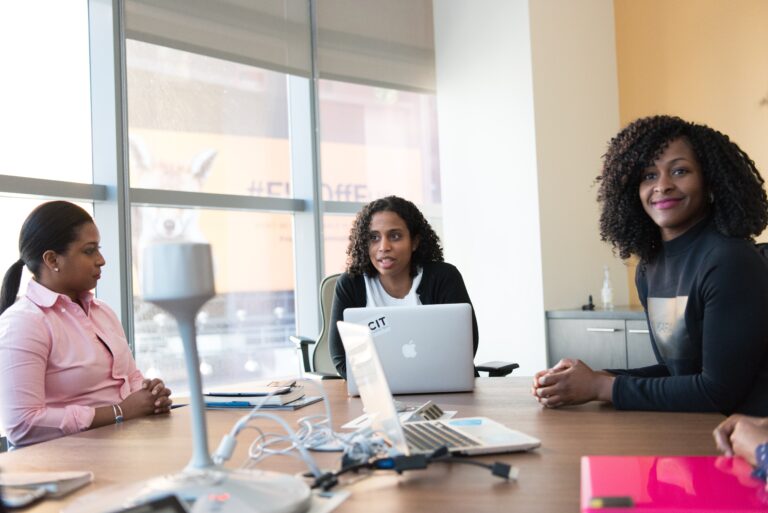 Today's economic environment places a strong emphasis on teamwork. Meetings are typically conducted via technology like video conferencing and shared displays because offices and coworkers are dispersed geographically and across different time zones. In the office, meeting rooms, huddle rooms, and pods are growing more and more popular, to the point where you occasionally might not be able to access them. When you go to use a conference space that you believed you had reserved, there may already be someone else there. This makes using a meeting room booking system imperative in today's world.
If you've recently experienced a meeting room overflow, you're probably not alone. Many offices and businesses are experiencing higher demand for meetings than ever before, which means meeting rooms are in high demand. That's why having a set of best practices for managing your conference rooms is so important. There are several advantages to having a system for scheduling meeting spaces; we've highlighted some of the more important ones here
# 1   Efficient use of office space
In the modern workplace, just 54% of the available space is being used for offices. In order to effectively monitor space consumption, plan for the future, make adjustments, and make the most of their real estate, companies need actionable data.
The best meeting room booking app provides this type of data by tracking both active and inactive employees' locations in real-time.
Active Employees – These are people who are present in your office at any given time during a workday. The software can track how many people are in each meeting room at any given time as well as how long they stay there before moving on to another part of the building or leaving completely (see below).
Inactive Employees – These are employees who are not present in your office at any given time during a workday but still have meetings scheduled for that day or week with other employees who are actively working away from their desks (or cubicles).
# 2   Improved Collaboration
Meetings and meeting locations are not all made equal. Sometimes all you need for a brief one-on-one encounter is a little space. Sometimes you require a much larger space with conference and presenting features. Place scheduling software makes it easier for your staff to reserve the ideal meeting room for your needs. They can select from a large ecology of zones to reduce meeting interruptions and double reservations, whether they require a meeting place to interact with colleagues or a quiet location for an HR meeting. From the room scheduling panel itself, their laptop, or even their phone, staff members may quickly reserve space. Additionally, some room scheduling programmes link with partner programmes like Microsoft 365 or Google Workspace as well as email calendars.
# 3   Safety
Safety precautions in the workplace have always been crucial, but the COVID-19 pandemic made it even more clear that the workplace must contribute to preventing the transmission of disease. In order to cut expenses and protect workers, some businesses also adopted a hybrid work-from-home policy. Meeting room booking system enables people to make the most of their office time. They may confidently reserve their workspace in advance, ensuring that they will have a dedicated area for the whole of the day, whether they are working together, concentrating, or studying. Systems for scheduling rooms can be used by businesses to keep track of occupancy and pinpoint problem areas. Most significantly, a dependable method for renting space will allow them to safeguard the trust and wellbeing of their staff.
# 4   Less time wasted is more money saved
Did you know that employee time waste costs businesses about $759 billion annually? This won't be a concern for your company if you use a meeting room booking system. Employees who are aware of the location of their meeting and that the room is appropriately reserved will not waste time looking for a space, which ultimately saves money. Offices that have a good system in place can experience considerable increases in productivity, morale, and efficient use of space. When employees know where they can find available meeting rooms and know whether they're free or occupied at any given time, they can spend less time looking for them and more time focusing on their work. This means less distraction and more productivity throughout your organisation.
# 5   Communication made easier
The best part about using a meeting room booking system is that it takes all of the guesswork out of scheduling meetings and events in your office space. You'll no longer have to worry about double booking rooms or making sure that everything runs smoothly when there is a change in plans last minute because everything will be taken care of automatically with this type of software program. No more phone calls or emails back and forth between employees trying to figure out what time they should meet up for lunch or after-hours drinks! The software does all of the heavy lifting for you so you need to only worry about your presentations for the day!
# 6 Optimising usage of the Meeting Room
According to surveys, the conference rooms are only utilised around a third of the time. This implies that in a typical 8-hour workday, conference rooms are unused for more than five hours. The use of rooms can be improved by implementing appropriate controls and a systematic policy for usage. Management may have a better understanding of their workplace and design the office space for improved efficiencies with the use of the best meeting room booking app that offers insight into the usage of rooms and the patterns of reservations and cancellations.
# 7   Multiple Booking Options
Finding and booking a room can be made even simpler by selecting a system that offers a variety of booking options. Staff that are constantly moving can identify and reserve rooms by using a web-based interface that can be accessed through any browser, a mobile application, or a wall-mounted room display panel.
Conclusion
It is essential to have a system that substitutes older, more manual methods of room reservation in a modern workplace. Offices that have a good system in place can experience considerable increases in productivity, morale, and efficient use of space. Business regulations and procedures can aid in making rooms accessible to those in need.
Neoffice is the best meeting room booking app that provides a simple and easy solution to manage your meeting rooms. It is a cloud-based software that allows you to search for a suitable meeting room at your location, check availability of the attendees, and make a reservation instantly with Neoffice.
The software offers you a highly customizable platform to create an online booking system for your organization. The application helps you build an efficient office management system that improves productivity and reduces the time spent on managing meetings.
How can I pick the best reservation system?
There are numerous booking systems on the market as a result of the growing demand for them. Choosing the best service is now even more challenging as a result of this. So, the following are some things to think about when making such a decision.
When choosing a meeting room booking system, you should consider how easy it is to use and whether it suits your company's requirements. If your company has multiple locations or uses virtual offices, then it may be worth considering a cloud-based system as these can be accessed from anywhere in the world by using a web browser or an app on your smartphone – so there is no need for an IT team to install them on-site at each location
Go over the various features that meeting room booking software has to offer. Every system has its own unique set of features. Take into account the software's platform compatibility as the booking systems can succeed or fail based on their ability to provide customer service.
Neoffice offers best meeting room booking app that simplifies the process of finding and booking the right room for your needs. Neoffice simplifies the process of finding and booking the right room for your needs. Neoffice is designed to help you find and book space with ease. With a few clicks, you can reserve a conference or training room at any time of day or night – whether you need it for an hour or several days. Our web-based reservation system makes it easy to book space online using a secure, self-service portal. Our online booking system is perfect for businesses of all sizes that need to reserve space quickly and easily without having to pick up the phone or wait on hold with an operator.
Neoffice Hybrid Workplace Management Solution
Neoffice is built with a suite of workspace tools that help employees choose how and where they work while providing organizations with a platform to manage their hybrid workplace with ease and complete control.
The solution comes with 9 features on one single app – Team planner to manage a collaborative effort for a team, Seat Scheduling, Meeting room Booking, Hot Desking, Car park Slot Booking, Digital cafeteria to pre-order your meals at work, Employee commute solution, Survey forms. All Features are modular and the client can choose to subscribe to the relevant solution.
To know more about the solution, do drop a mail to [email protected] or a call us on our Helpline +91 80 4680 5757