Which are the most productive weekdays in a hybrid office set up ?
In theory, a hybrid work schedule should provide you with the best of remote working while still striving to focus on the benefits of collaboration and execution, therefore it has undoubtedly emerged as the new norm for many teams and businesses. However, to properly integrate remote work with in-office work settings, you must design and oversee a system that respects the adaptability and independence of remote work schedules while upholding the systematic and highly communicative nature of conventional workflows
What is a Hybrid Work Schedule ?
What does hybrid working mean, exactly?
An unconventional (and more flexible) work environment is produced by a hybrid work schedule, which mixes on-premise and remote models. Team members alternate time spent in the office with some remote work.
Here are three distinct employee job models for comparison's sake:
Onsite: Traditional office teams who operate there
Remote: Teams are made up of individuals operating from several locations.
Hybrid: A model made up of elements from the other two.
What is meant by hybrid working? The work environment is created for and around employees in hybrid working, independent of their location. Additionally, there are various hybrid employment opportunities. Among the most typical are:
Split team: You have both full-time on-premise personnel and full-time remote employees on your split team.
Shifts: Everyone works remotely some days of the week and on-site a few days a week.
Flexible: Members of your team have the option of working from home or in the office.
Now that you are familiar with the fundamentals of hybrid work schedules, let's examine the advantages
Implementing a blended work schedule has several advantages, such as:
More adaptability: You may manage your time more freely and work less stressfully.
Both regionally and internationally: Maintain a physical team while seeking talent worldwide.
Reduce expenses: Reduce the costs of your office space, office supplies, and general overhead.
Hybrid work patterns are nothing new, but they are unquestionably on the rise. Organizations all over the world were compelled to rethink how they operate as a result of the COVID-19 outbreak. As more people began working from home, asynchronous communication methods and digital workspaces became more important. To put it another way, the pandemic hastened the adoption and expansion of remote work.
A few unexpected observations concerning remote teams were highlighted by this adoption:
Teams working remotely are more effective: Studies show that working remotely enhances team productivity.
Employee engagement: Almost 3 out of 10 workers would be willing to take a 5% wage loss in exchange for the chance to work remotely at least occasionally.
Remote teams are less expensive: Having a remote team can significantly lower overhead expenses.
Unfortunately, not all businesses can completely embrace remote working, and when they must return, it is important to handle the situation delicately. People must be present on-site for a variety of employment roles, company models, and sectors. Organizations began seeking for solutions to make the most of a remote environment without sacrificing mission-critical tasks that demand physical presence as a result.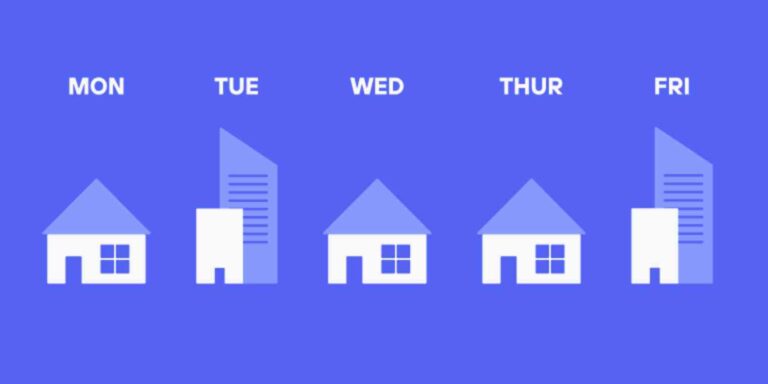 Choosing the onsite working days in the week
In hybrid working environment employees are often left to decide to choose their own weekdays. This is highly convenient for teams who are independently working on a project to set up a date a meet in person for updates and plans on execution
Monday
Despite the fact that they can be difficult after a wonderful weekend, Mondays are among the busiest days of the week. It is logical. After the weekend, many individuals feel refreshed. Additionally, they want to complete specific tasks so that they are prepared for the remainder of the work week.
Monday in the workplace might go either way for hybrid workers. Leadership may meet with staff members in person. On Mondays, more than 40% of office workers swiped into their jobs. It trails only Tuesday in terms of output. HR managers might promote remote work if this is when employees complete head-down work. However, it appears to be popular during work hours as well, so today may be a productive day for the team.
Tuesday
It has been widely recognised that Tuesday is the most productive day for several studies. Tuesdays, along with Wednesdays and Thursdays, are considered "peak workplace face time days," according to The Wall Street Journal. Again, if productivity on this day necessitates solitude and quiet work, employees could think twice about coming into the office. But Tuesday is the greatest day to choose if workers have a team project or frequently collaborate.
Wednesday
Perhaps workers are too preoccupied to come into the workplace on Mondays and Tuesdays because they are working on projects at home. According to Kastle Systems, a US-based security and management company, Wednesdays are the most frequently chosen day of the week to go back to work. Many HR directors are rethinking the design of their offices to allow for gatherings for teamwork, collaboration, and brainstorming rather than solitary work. Wide open areas, moveable furniture, and practical technology like digital whiteboards and similar items are available in place of offices and cubicles. The best day to use it all is Wednesday.
Thursday
According to The Wall Street Journal, "Thursday may be the new Monday" when it comes to planning which workdays will provide you the most face time with senior executives. This is an opportunity to reflect on the previous week's work and plan your week's work ahead. Senior executives may be available frequently, and this day may offer chances for one-on-one encounters. Thursday is increasingly ending the work week for many businesses. Four-day work weeks are being tested by businesses like Bolt, Kickstarter, and ThredUp, making Thursday the new Friday.
Friday
The coverage of The Washington Post demonstrates the concept that "Fridays are likely the most inconsequential but a jackpot workplace day if it is just you and the top boss." One thing is becoming obvious as white-collar workers throughout the world adapt to hybrid work schedules: nobody wants to be in the office on Friday. In June 2022, Kastle discovered that barely 30% of office workers swiped into work on Fridays. The hybrid work week is already gone with those four-day work weeks. Because they are not distracted by their coworkers on Fridays, some employees who prefer to leave the house to opt to spend the day at work.
The distinctive culture of the company and the preferences of the employees both play a role in determining the ideal days to report to work. In order to choose the optimal hybrid work schedule, HR experts should take into account all the information about the days of the week in the office and their own organisation. Although the research indicates that two days are ideal on average, the function of the individual and the business may dictate the requirement for more or fewer days at the office.
Key hybrid work statistics for 2022
According to the study by Travel Perk
76% of respondents said they were certain that their businesses had switched to a hybrid working paradigm.
46% of respondents stated that there are now no limitations on arriving and departing the office, according to 63% of respondents, who claim that their employers have not made any significant changes to their workplaces to accommodate this new way of working.
Most employees must attend work three to four days a week.
When asked why they enjoy coming to work, 26% of employees indicated they missed face-to-face interactions with their teams.
In a post-pandemic world, hybrid work will become standard.
Travelperk's further research reveals that the coronavirus pandemic has directly caused the majority of the organisations questioned the transition to a hybrid working arrangement. In fact, 76% of respondents said their organisations have shifted toward hybrid work.
Only 11% of people will return to their jobs full-time.
9% of people now do remote work full-time.
Only a tiny minority of respondents indicated that their organisations were either currently debating what to do or that they have always taken a flexible approach to hybrid employment.
The move between a home office and a traditional office location is becoming easier thanks to the improved dependability of videoconferencing platforms like Zoom or Microsoft Teams.
It is obvious that a hybrid office set-up is the future of co-working, if only for its efficiency in space management and the ability to offer employees the best possible working environment. We hope to see more companies embrace this idea, as it will greatly improve productivity and create an enjoyable work environment
Neoffice Hybrid Workplace Management Solution
Neoffice is built with a suite of workspace tools that help employees choose how and where they work while providing organizations with a platform to manage their hybrid workplace with ease and complete control.
The solution comes with 9 features on one single app – Team planner to manage a collaborative effort for a team, Seat Scheduling, Meeting room Booking, Hot Desking, Car park Slot Booking, Digital cafeteria to pre-order your meals at work, Employee commute solution, Survey forms. All Features are modular and the client can choose to subscribe to the relevant solution.
To know more about the solution, do drop a mail to [email protected] or a call us on our Helpline +91 80 4680 5757