How to choose a visitor management software solution?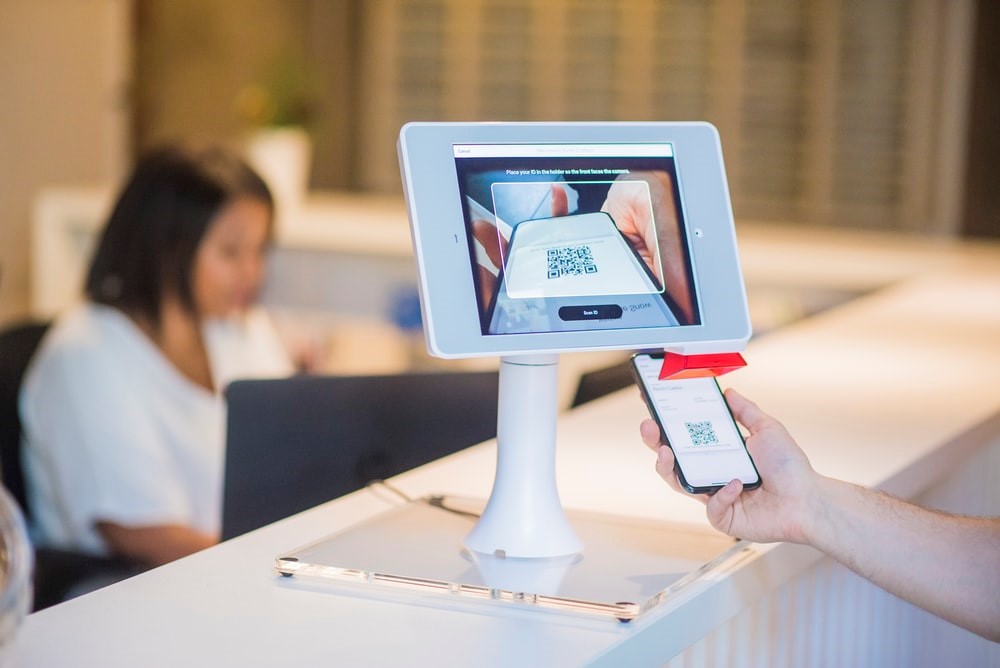 With hybrid work cultures becoming popular, employees are visiting the office on about two days a week. At the same time, you want to ensure you are giving visitors the best possible experience. To ensure visitors and employees have a hassle-free experience when they are in the office, visitor management software is critical. Here are the top reasons why it is critical.
A visitor management solution helps your company, or any organization for that matter, keep track of anyone visiting your physical workplace. In addition to being able to track who is in your office, this software can help you know who visited when they visited and also where they have been. This helps prevent unauthorized access to sensitive information and protects your business from liability.
Choosing the right visitor management solution for your  organizational needs is crucial. We've outlined some of the top factors to consider when choosing a solution that will help you get the most out of your visitors and ensure they have a safe, secure experience.
Workplace security
When it comes to workplace security, you can't afford to overlook the visitor management solution you choose.
Your employees work hard every day, and their safety and well-being are top priorities for you. That's why you want the best possible solution for managing who comes into your office and when.
When choosing a visitor management software, consider how many people are coming into your office on a daily basis—and what kind of information they need access to.
Easy to work with
A visitor management solution should be simple, easy to use and provide the visitor with a seamless experience. Visitors should be able to check-in, find their way around and get out without any hassles.
An ideal visitor management solution should provide an easy sign-in flow. It should also allow visitors to update their information quickly and easily if they need to make changes during their visit.
Visitor management software can be used by companies of all sizes when it comes to managing their visitors. From small businesses that have just a few employees or contractors to large corporations with hundreds of employees, there is a solution available for every business.
Seamlessly work with your other tech tools
You'll need visitor management software that's built on an open platform, so you can integrate it with the other tools you use to keep your office running smoothly.
When it comes to visitor management, there are two basic approaches: closed and open. Closed systems have proprietary software and hardware and only work with other products from one vendor. Open systems run on the internet and allow for integration with third-party software and applications.
If you're looking for a system that will help you improve security, streamline operations, or boost productivity—while also making it easier for employees to collaborate remotely—an open platform is the way to go.
 Health Screening and Accessibility
Visitor management is a key component in ensuring the safety of your employees and visitors. As an employer, you want your business to be a safe place for everyone. Visitors can bring in pathogens that can cause illness among your employees. A visitor management system will allow you to manage the visitors coming on-site based on their health status whether they are vendors or guests.
Use visitor management software that promotes a safe workplace by setting criteria for visitors to come on-site through health declaration on the visitor management software. The vaccination status of visitors can also be integrated based on their consent.
Allow employers to see where their visitors are located at any given time with real-time location tracking features in the visitor management software for ease of access control and security purposes.
Visitor badges should be issued with barcode scanning capabilities so that employers can easily track which areas each visitor has visited within their facility. This helps reduce liability issues, such as accidents and injuries caused by poorly trained workers who may not know enough about their own facilities or processes.
Data Analytics and reporting
The visitor management system is something that will help you store the data on the visitors to your office and help prepare analytics and reports from it. This helps you keep track of who is coming in and out of your office, how often they are coming in and out, what time they are coming in, and what time they leave, among other things.
Visitor management software can be used for:
Keeping track of visitors to your office so that you can organize them into groups by department or business unit. This can help you better manage your employees' workloads as well as their work hours.
Keeping tabs on which employees bring visitors into the office so that they can be compensated accordingly.
Tracking which departments or businesses bring in more visitors than others so that you can focus on those areas.
Neoffice is a visitor management software that helps enhance the visitor experience from entry-to-exit while keeping everyone safe.
Neoffice is an all-in-one visitor management system that provides real-time information about who's coming and going, along with a secure way to manage access control, visitor scheduling and more. The solution is flexible enough to work in any building or industry, including schools and universities, government buildings, healthcare facilities, manufacturing plants or office buildings. With Neoffice, you can be assured of having a smart visitor management solution that allows you to manage your employees, visitors and assets at any time and from anywhere.
Neoffice offers several features, including multiple check-in workflows, strengthened security, health screening for visitors, auto-alert on visitor entry, simplified check-in for repeat visitors, customized badges and digital records for analysis.
Neoffice Visitor Management System can be managed by 3 methods – Contactless wherein Employee can request for a visitor to come in from our mobile app and a link is sent to the visitor by SMS/email to fill the form with all his details . Based on this information the admin can approve or reject the request. If approved then the confirmation message is sent to the visitor and the employee. Visitor can show the pass at the lobby to check in and check out.
Second is when the Visitor walks in to the lobby and does. His entry on a self-service tablet or can be assisted by the receptionist. Based on the information the message is sent to employee to approve the request and come to the lobby to receive the visitor
To know more about the solution, do drop a mail to [email protected]
Neoffice is built with a suite of workspace tools that help employees choose how and where they work, while providing organizations with a platform to manage their hybrid workplace with ease and complete control. The solution comes with 9 features on one single app – Team planner to manage a collaborative effort for a team , Seat Scheduling , Meeting room Booking , Hot Desking , Car park Slot Booking , Digital cafeteria to preorder your meals at work, Employee commute solution, Survey forms.
All Features are modular and the client can choose to subscribe to the relevant solution.