Best practices to follow for an excellent desk sharing experience
Desk sharing in your organisation must be set up in several steps. It's time to establish specific guidelines after you've laid the groundwork by polling your staff and taking your workplace culture into consideration.
You might want to keep things casual and only implement a straightforward desk sharing/hot desking policy depending on your employer.
Desk sharing should be implemented at larger businesses, therefore it's a good idea to give it more thought and develop more rules. We've gathered 10 essential desk-sharing best practices to get you going, which you may use as is or slightly modify to fit the demands of your business.
Our Top 10 Best Practices for Desk Sharing
Request that team members execute a complete reset each day.
No matter how many or how few coworkers use a particular desk throughout the course of a workday, any traces of usage has to be eliminated before the end of business hours. This entails clearing the desk of all personal stuff, wiping it down (you'll need to supply sanitizers and antibacterial wipes for this), tossing out the trash, and readjusting the desks and chairs to their original positions. That way, anyone walks in after them can use the desk right away and arrange it whatever they like.
Set aside areas for certain uses
The primary advantages of in-person work are community and cooperation. You can designate several spaces for socialising or cooperating in order to improve the sense of community in the workplace while yet respecting people's privacy and desire for space. Of course, giving individuals the option to withdraw is also crucial. Here are a few instances of areas you might want to set aside in your area:
Breakout zones act as gathering places where individuals can casually mingle and converse, take lunch breaks, or have meetings.

Conference rooms or collaborative areas for meetings, brainstorming, presenting, or other similar activities.

The entire kitchen and cafe are set aside for snacking and socialising

Employees should have quiet spaces or "touchdown zones" where they can concentrate better or take brief silent breaks.
Establish office neighbourhoods
While we're talking about structuring your workspace, office neighbourhoods are another useful idea to take into account. An arrangement known as an office neighbourhood makes sure that coworkers who have common interests are situated together. Teams or departments, shared work on projects, shared needs or everyday activities (such isolation or collaboration space), and similar requirements for amenities and equipment can all be used to organise neighbourhoods. There are a tonne of options you might think of depending on the number of desks, the number of employees, and their demands.
When used properly, office neighbourhoods can aid in the development of a workplace that promotes productivity, cooperation, efficient space utilisation, and flexible work.
Keep the noise under control
Since offices are typically open and filled with distractions, it's crucial to provide some type of noise control. Reducing noise levels will also keep everyone happy if your desk sharing policy mixes people with various needs together.
Here are some fundamental noise control guidelines to get you started:
– Keep all electronics silent, especially laptops and smartphones.
– Talk informally only in the places that are designated.
– Utilize conference/meeting rooms for phone calls and meetings.
By choosing carpets and other furniture and surfaces that absorb sound, you can lessen the amount of noise that bounces around in a workplace.
Think about implementing a BYOD policy.
Allowing employees to use their own devices instead of those provided by the corporation is known as the "bring your own device" (BYOD) strategy. (Of course, this might not be achievable depending on the nature of your company's operations and security requirements.) One of the challenges of desk sharing is having specialised gadgets (such as computers and headphones) on each workstation. If you can afford it, you should encourage people to use their own devices. Additionally, allowing employees to use their own devices is far more practical from their perspective.
Utilize technology to simplify desk reservations
Desk booking software may significantly lessen conflict for your business and all employees who share workstations by converting from hot desking to desk hoteling. Depending on their flexible schedules, team members may easily launch the app (or use Google Calendar, Slack, or Teams), see who else is in the office, and rent a desk.
They will also be able to reserve conference rooms directly using a full hybrid workplace management system. Additionally, a decent hybrid workplace software should enable you to implement assigned desks, making them unavailable for booking by anyone else, if specific employees in your organisation require permanent seats or private offices.
Make personal storage available
The inability to leave personal stuff at one's workstation is one of the drawbacks of desk sharing. It is simple to fix this by offering lockers or other safe personal storage facilities where people can keep their goods. Having personal storage space can also help to cut down on daily tasks involved in setting up one's workspace and the overall quantity of clutter.
Organize shared documents in one location
Centralizing shared documentation is another approach to lessen clutter, eliminate duplication, and save paper, whether it be in hard copy or on the cloud. You can set up a central location or banks of lockers where shared documentation is kept when it comes to physical copies. Employees will be able to access information from the storage as needed and put it back after they've finished using it. The use of centralised and secure cloud storage allows the same idea to be applied to digital documentation. The elimination of redundant files, a potential source of leaks or erroneous information, is one advantage of centralising shared data. This is quite important, especially if your business does a lot of remote work.
Provide movable equipment
Make sure that everyone's basic requirement for workplace comfort can be satisfied before implementing desk sharing. This can be done by offering ergonomic furniture that staff members can modify to their preferences in order to feel comfortable spending the day at their desks. Adjustable monitors, a range of chairs and sitting alternatives, and adjustable monitors are some examples of this type of furniture and equipment. And while it's preferable to use natural light, having a desk lamp that allows for individual illumination adjustment is also a good idea.
Remove and conceal any unused cords.
Despite the dominance of wireless technology, several businesses still keep cables on hand for ethernet connectivity and, in some circumstances, even landlines, just in case. As simple as it may seem, cutting as many wires as you can frees up space in the office and allows workers to shift desks around (if allowed by your desk sharing policy). Additionally, any cords you do require should be tucked away to prevent trips and falls. Speaking of cords, make sure every desk has enough of outlets for all those gadgets!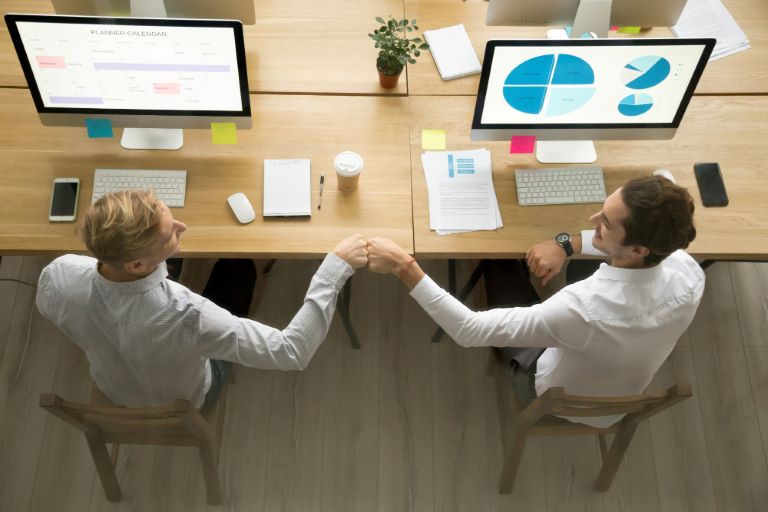 Learning the Basics of Desk Sharing
The shared workspace best practises listed above are meant to get you in the office organisation frame of mind as you start your hybrid work adventure. You might also want to seek professional assistance with managing your desks, making reservations for rooms, and managing your hybrid office as you get started. By encouraging staff to adopt the new way of working while relieving you of several onerous administrative responsibilities, Neoffice can assist you in overcoming the problems of hybrid work.
To find out how Neoffice can help you facilitate hybrid work and improve workplace collaboration, you can book a live demo right away.
Neoffice Workplace Management Solution